Swiss design capital
There is no doubt about it – the words "Swiss design" have a bit of a luxurious ring to them. Traditionally you might think of watches or army knives wh
en you hear Swiss design, but the fact is that Switzerland have caught up on other aspects of design as well.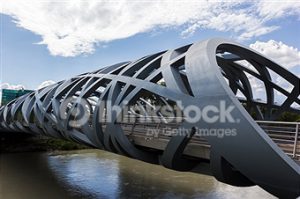 Swiss architecture
Switzerland is a relatively small country, which means that there are some limitations as far as architecture goes. Add to that the fact that the Swiss have a healthy respect for their natural resources; it goes without saying that there is much more than just aesthetics that go into architectural innovations in Switzerland. This has resulted in some pretty spectacular and unconventional structures, such as the Freitag Shop in Zurich and Studio Monte Rosa near Zermatt.
Craftsmanship and wearable art
In a style not too dissimilar from Scandinavian design, Swiss made furniture, clothing and accessories tend to stay on the streamlined, functional and simplistic side. One of the most iconic Swiss designs is the Ulm Stool, by designer Max Bill. What makes this piece so special is that it can be used as a stool, a serving tray or part of a shelving unit, so as far as functionality goes it really pulls out all the stops. Other well-known and well renowned designers, such as Hannes Wettstein, Kurt Thut and Alberto Häberli have contributed in placing Switzerland firmly at the top of the world's leading design nations. The style is again generally simplistic, with clean lines and a great weight put on functionality. The similarities between Swiss and Scandinavian design are compelling, and if you are a fan of either chances are you'll find pieces of interest in the other as well. A good place to start if you are interested in this style of design is nordicdesigncollective.com where you'll find a wide selection of fine craftsmanship and functional design pieces.
When it comes to the more wearable Swiss design, it's the Freitag brothers that stand out with their somewhat quirky designs, built around reused and recycled materials. They entered the fashion scene in 1993 with a messenger bad made from recycled materials, such as an old truck tarpaulin, a car seat belt and the inner tube from an old bicycle.
Related Posts